Dear Families,
Welcome to the 2021-2022 school year! We wish you had a restful summer break. We hope you are safe and with your loved ones. We thank you for your collaboration in exploring our new "normal." We encourage you to keep on checking Peachjar, Class Dojo, Twitter (@Owliewood), and nsd.us for updates.
Please know that Olivewood is committed to putting our children first and doing what is necessary to give them a safe, socioemotional, content/educational rich environment. We will begin the year with in-person instruction. Do not forget to register (if new to our district) or reregister (if already attending) on your ParentVue Account. We understand the uncertanty this pandemic has given all. Please know we are doing everything possible to do what is right for all our students, staff, and families.
We will continue our communication and commitment to our families.
If you have any questions, please feel free to contact me. We are in this together.
For our students,
Mrs. Linnette Castaneda, Principal
A Little About Me (Mrs. Castañeda):
I am excited to begin my 4th year as principal at Olivewood. I love our staff and families! We share the same purpose...doing what is best for our children. I am a first-generation high school graduate. I hold various credentials and have a Masters Degree in Curriculum and Instruction. Currently, I started persuing my Doctorate in Educational Leadership at SDSU. (Go Aztecs!)
Mr. Castañeda and I have two incredible boys. They both attend Olivewood!
On my "free" time, I like to spend time with my family going on walks by the beach, hikes, reading, or just being silly together.
I strongly believe in the importance of being a good person to everyone. :)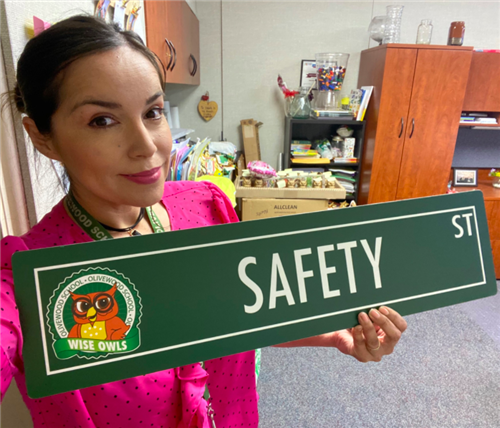 Olivewood School's Wise Owl Ways: We are safe, respectful, responsible, and kind!